This is a large, silo launched heavy ship missile known traditionally as a 'Polaris Class Missile'. This bridges the gap between standard ship missiles and planetary defense missile. The larger guidance systems allow the HS Missile to dynamically acquire a new target if their original target is destroyed.
Requires: Heavy Planet Missiles
Allows research into: Kinetic Missiles
HS Missiles are required to build
ship section:
Edit
Defence platform
Edit
Cruiser Weapon Mounts
Edit
Standard
Polaris
Faction:
Light/PD:
Medium/standard:
Very Heavy:
Hiver:
4
2
4
Human:
6
2
4
Liir-Zuul:
6
2
4
Loa:
4
2
4
Morrigi:
6
2
2
Tarka:
6
0
3
Zuul:
4
2
3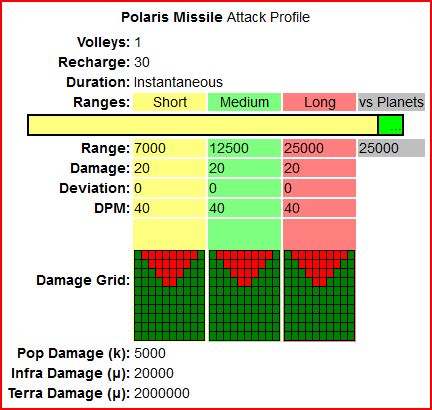 Size:Very Heavy
Mount:Polaris Missile
Technology:Heavy Ship
Crew:10
Power:2
Supply:25
Signature:10
HP:25
Armor Piercing Level:0
Ricochet Modifier:-10
Critical Hit Rolls:5
Critical Hit Bonus:75%
Malfunction Percent:5%
Malfunction Damage:200
Weapon Type:Missile
MAX Flight Time:95 sec.
Attributes: Explosive, Stand Off, Tracking, Upgradable
This information valid for Version 25003.10
These are very good early technology for depopulating planets. 4 cruiser class ships with this missile can take even a fully populated size10 planet to 0 population in a few (3-4 * 5 min) rounds.